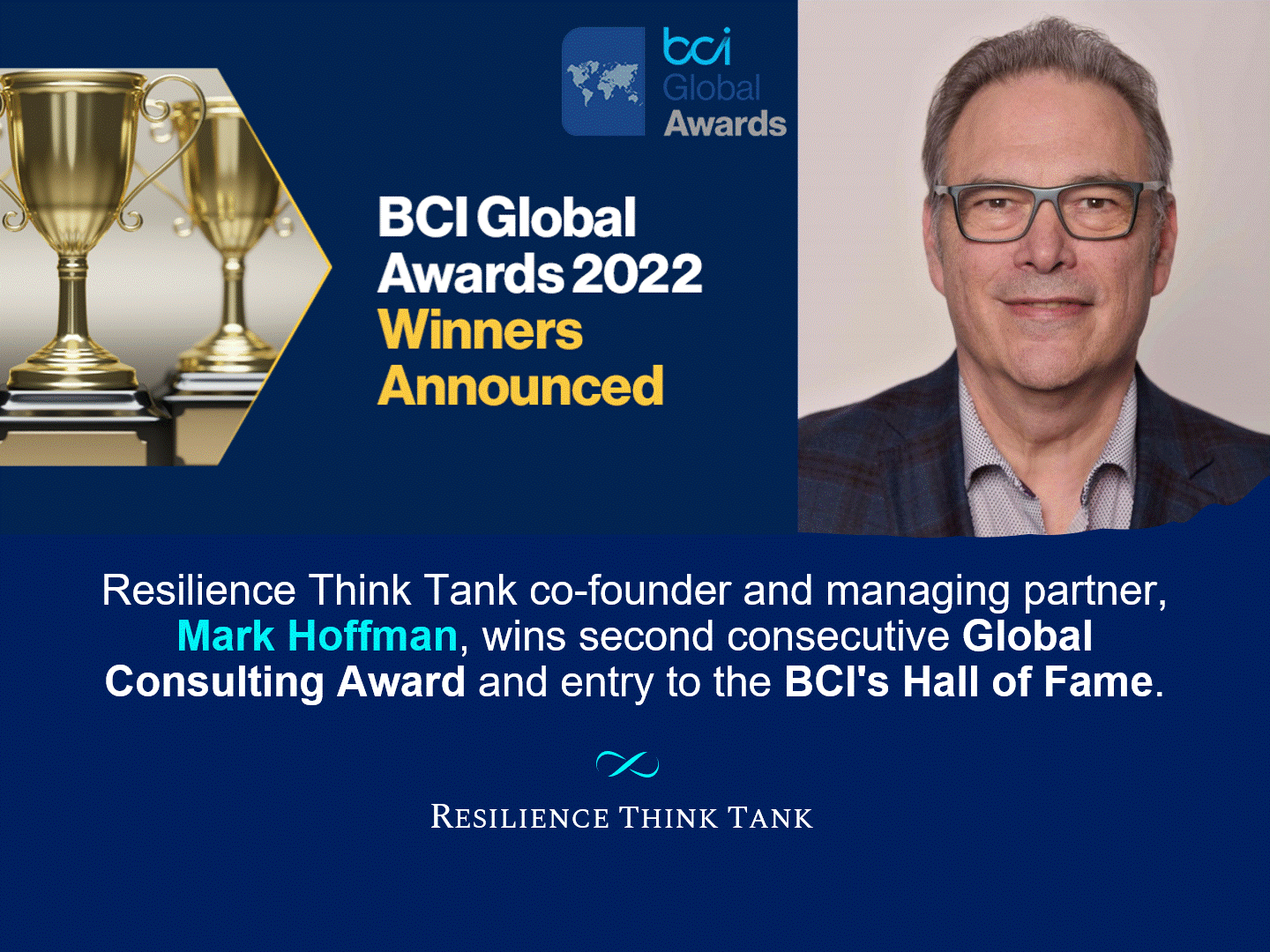 Resilience Think Tank co-founder and managing partner, Mark Hoffman, wins second consecutive Global Consulting Award and entry to the BCI's Hall of Fame. Mark has been named the 2022 Global Consultant of the Year by the Business Continuity Institute (BCI) during BCI's Global Awards 2022 which took place virtually on November 17, 2022.
BCI Continuity & Resilience Consultant Award:

Mark W. Hoffman MBCI​
In addition, Mark was named to the BCI's Hall of Fame, having won the Continuity and Resilience Consultant category at least three times. Mark also won the BCI Award for the Americas Region in 2021 and 2022 in addition to the global award last year.
In order to win in the Consultant category, Judges look for evidence of exceptional all-round skills and broad experience in the continuity and resilience space. The winner of this category must show the Judges that they have an innovative approach to the discipline, are an outstanding problem solver and a worthy ambassador for the consultancy profession in the area of business continuity and resilience.
In his acceptance speech, Mark thanked the BCI for their excellent work and said:
"I'm honored and humbled by this award. Whenever I win an award like this, I'm reminded of the need to work harder – to continue to improve."
The winners of the BCI Global Awards 2022 were also published on Continuity Central.








About Mark Hoffman, MBCI
Mark is a multi-award-winner, senior business continuity and resilience consultant, located in the Great Toronto area. He is a co-founder of the Resilience Think Tank, owner of Anesis Consulting Group, Inc. and host of the Resilient Journey podcast. With nearly 25 years of industry experience, Mark continues to provide world-class consulting to organizations in the US, Canada, Caribbean, and Europe with a focus on BCM Program development and maturity, crisis management, crisis communications and cyber response.